Subject: DTStudy: Cranberry Bogs
From: Joe Offer
Date: 27 Feb 20 - 02:43 PM

This is an edited DTStudy thread, and all messages posted here are subject to editing and deletion.
This thread is intended to serve as a forum for corrections and annotations for the Digital Tradition song named in the title of this thread.
---
---
CRANBERRY BOGS (DT Version 1)
(Barry Reynolds, words; Dillon Bustin, music)

Well, you asked me to sing and to sing you a song
Of how in the marshes we all get along
Bohemians and Irish, Yankees and Dutch
In the cranberry bogs you will find the whole clutch.

cho: Did you ever go down to the cranberry bogs?
Some of the houses are hewn out of logs.
The walls, they are board, sawn from the pine
That grows in the country called the cranberry clime.

When the hay it is cut, and the wheat it is stacked
Cranberries ripen, so our old clothes we'll pack
And away to the marshes to rake we will go
And dance to the music of fiddle and bow.

It's all down to Mercer our tickets to buy
To all our families we will say goodbye;
For profit and fun, our plans to resign
For three or four weeks in the cranberry clime.

All day in the marshes, our rakes we will pull.
We feel the best when our boxes are full.
And in the evening we'll dance 'til we're all tired out
And wish the cranberries would never give out.

Note: Poem composed at the turn of the century by Barry Reynolds of
Wisconsin; set to music by Dillon Buston, 1987.
@farm @work
filename[ CRANBRRY
TUNE FILE: CRANBRRY
CLICK TO PLAY
RG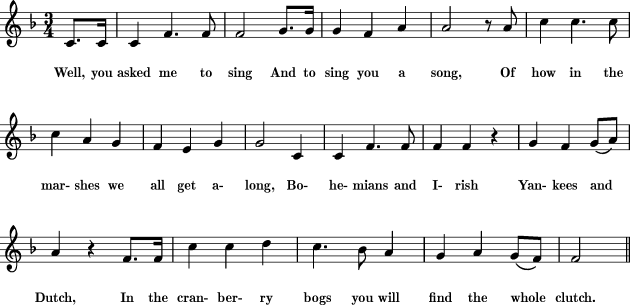 ---
Here's the Traditional Ballad Index entry on this song.

Cranberry Bogs, The (Cranberry Song)
DESCRIPTION: "Have you ever been down to the cranberry bogs? Some of the houses are hewn out of logs...." Asked to sing, the singer tells stories of the cranberry harvest. The fruit are gathered after most other crops are in, so all sorts of people happily take part
AUTHOR: Barney Reynolds?
EARLIEST DATE: 1946 (recording, Frances Perry)
KEYWORDS: farming work nonballad moniker
FOUND IN: US(MW)
REFERENCES (3 citations):
Peters, p.45, "The Cranberry Song" (1 text, 1 tune)
Cohen-AFS2, p. 435, "The Cranberry Song" (1 text)
DT, CRANBRRY* CRANBRR2*
Roud #5412
RECORDINGS:
Frances Perry, "Cranberry Song" (AAFS, 1946; on LC55)
NOTES [228 words]: The only published version of this piece appears to be that recorded by Frances Perry for AAFS. But Perry herself (who thought the song to have been composed around 1900) admitted that "At each marsh every year, new verses are composed about the workers present at that season." (Hence my use of the "moniker" keyword).
Curiously, John Berquist claims to have a Minnesota version, which conforms closely to the outline of the Perry version but has dozens of minor verbal differences; the tune is also different from that printed in Peters. It appears there has been some folk processing (but starting from the basic Reynolds/Perry text). The most substantial change alters the location: "Mather" in Perry becomes "Mercer" in Berquist.
This is a noteworthy change, because there doesn't seem to be a town called Mather (although Frances Perry said that author Barney Reyonds was from Mather). Mercer, however, is in northern Wisconsin, near the border with upper Michigan and about 20 miles south and slightly east of Ironwood. It's a wet region, there is, in fact, a Cranberry Lake not too far south of there.
The Digital Tradition claims that Dillon Buston wrote a tune for this in 1987, taking the text from Peters. However, Perry had a tune back in 1946, and Berquist recorded his tune in 1981 -- and it's a fine tune that doesn't need any newfangled replacements. - RBW
Last updated in version 2.7
File: RcTcrBo
---
Go to the Ballad Search form
Go to the Ballad Index Song List
Go to the Ballad Index Instructions
Go to the Ballad Index Bibliography or Discography
The Ballad Index Copyright 2019 by Robert B. Waltz and David G. Engle.